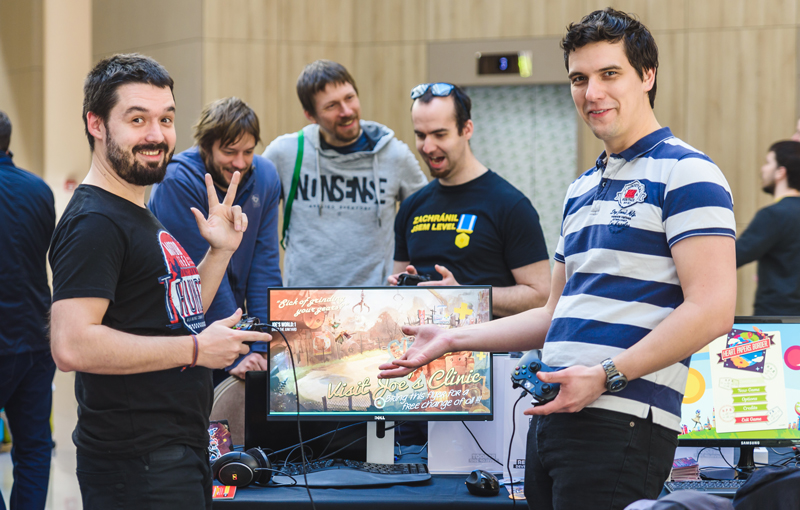 Reboot Develop 2017 was amazing. Let's get that out of the way first. It was by far the best conference we've attended so far. Looking back at the experience and attempting to answer why I felt that way, I got to thinking about what makes a great conference for an indie dev in general. Read on for some thoughts on what really matters to an indie when going to an industry event.
Before we talk about what makes for "the best" of anything, let's add some context. People go to conferences for wildly different reasons so the conclusions I'm about to share are only relevant if you're in a similar boat as our little studio. For Rikodu, the main reasons to go to conferences right now are:
We are actively looking for publishers and/or investors. This is the #1 priority for Rikodu at the moment and we're doing our best to find the right people to talk to and pitch our game.
We are also looking for ways to increase our game's visibility. Any kind of recognition, be it in the form of an award or some article in the press, helps further that goal.
For anybody in a similar situation, Reboot was an awesome conference. I can sum up the reasons in one single word: opportunity. For all its organizational woes (there were a few but these things always take a few editions to iron out) there was an abundance of opportunity to find what we were looking for at Reboot.
Photo by Sebastian Bularca
So if I were talking to someone who is organizing a conference (Dev-Play 2017 is not that far away) and they would ask me what I would recommend to make the conference attractive to budding indie developers like us, here's what I'd tell them.
Attract publishers, investors and journalists
Kind of a no brainer but if you're a developer looking for funds and exposure, these are the people you want to talk to. If I know there are publishers/investors going to a conference, I'm very inclined to attend. At Reboot I talked to no less than 10 publishers, many of them big names, and that's not even counting Sony and Microsoft.
Having your conference in Dubrovnik certainly helps attract a good crowd. If your conference isn't in some amazing, world-renowned location you'll just have to get creative. Good parties? Special events? I don't know, I just make games man! But as an organizer I hope you'll find a way.
And hey, since you're doing all this work to attract the right people, I hope you won't forget to let us all know that these people will be there. Or maybe even hype up the fact that you're focused on attracting this crowd and are actively trying to create opportunities for developer-investor meetings.
Have a good, highly visible indie showcase area
By now we've been to three indie showcases and a timed indie showcase slot. To explain them briefly, these are dedicated areas where indies can expo their games and anyone can come by to play them.
Photo by Sebastian Bularca
Here's what I liked about all of them:
They were free
They allowed us to get at least some amount of people to play our game and get feedback
Sort of good, if rather random way, of meeting people and making connections
And here's what I've seen go wrong at various conferences or, dare I say it, completely ruin an indie area in one case:
Very difficult to access some parts of the area. In one particular case, there were cramped rows of indie tables. To get between two rows, you would literally have to squeeze through both the exhibitors and the unfortunate souls who were already trapped in there. So if you weren't lucky enough to get a spot in one of the exterior rows, which I'd say only 10% of exhibitors did, you had very few people come over and play the game.
Way too little space per exhibitor. I mean, I know it's free and all, but please give me enough space to have a decent monitor, a couple of controllers and absolutely minimal branding material. I'm not asking for a lot, just a decent 1m wide desk area. Think of the children! And the non-mobile game developers!
Entire area hidden away in some dark corner. The indie area is where busy conference goers, speakers and attendees alike, might go in the few and hectic breaks in their conference schedule. They don't have a lot of time so make sure that the area is in their way where they can see it and easily get off their path for 5 minutes to check it out.
Have a good Indie Award and make it a big deal
I'm being Captain Obvious again but I think this is important. It's so easy to just throw together an "Indie Award", announce some winners at the end and call it done. Well, fear not! I'm here to correct the delusion that that's a job well done and provide some helpful tips!
Here's my list of 7 things to do if you're organizing an Indie Award:
Make sure your jury is prestigious but, even more importantly, try to make sure that they actually play the games! Otherwise it's just a popularity contest or a "who makes the nicest trailer" competition.
Really think about your categories. Wait, you do have categories right?
Make the Awards ceremony a big thing! Plenty of ways to do this but just make sure that lots of people attend and you make a big deal out of awarding the winners and the finalists.
Line up a journalist or two to interview the winners. They might do it on their own but they could also be busy. It would be really cool if you as an organizer talked to attending journalists and made sure they've got this booked in their schedule.
Market the crap out of the award both before and after the event. For a fledgling indie studio, it helps to even be on a list of "also ran" at a prestigious conference. And hey, all those back-links might come in handy for you too.
You create content all throughout the year to market your conference, right? So why not follow up and write some articles about winners and participants of the last edition while you're preparing for the new one?
Prizes are the least important thing! Yeah, it's cool to win and we really had fun with the Oculus we received for winning the Reboot Pitch but material things aren't really what I'm after when we're competing. Unless you're offering cold hard cash (which is always useful), spend the energy on the other points.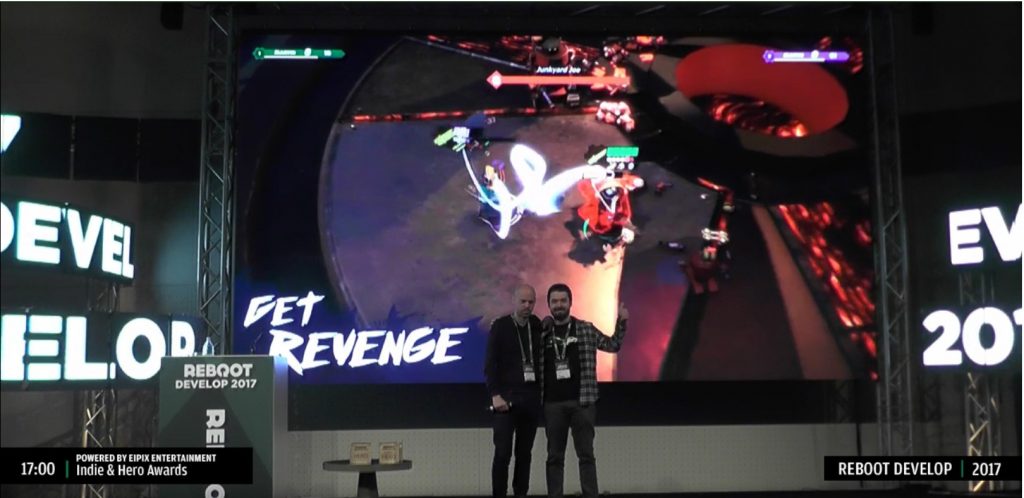 Reboot got a lot of these things very right. They could go a mile further by increasing the exposure of their award winners but overall I think they understand that this has to be a big deal for it to matter.
Don't forget the pitching session
Maybe it's just me but I like pitching sessions a lot. I mean, we did win two of the three we attended and we were runner up for the other so the results definitely influence my memory of the events, but I really think pitching sessions are great for all participants.
First off, as an indie dev, you're guaranteed to get the attention of people who can really help you out. Pitch judges might be exactly the connections you're looking for or they might be able to introduce you to other people you want to talk to. It's a limited time but the stage is yours and it's easy to approach attendees after the pitching session.
To top it off, it's also a great opportunity to receive feedback from people who know the industry well. It's a unique perspective, that of the seasoned judge who has seen many pitches and loads of games in various stages of development, and it's something any aspiring dev should take advantage of.
Photo by Sebastian Bularca
Reboot had not one but two pitches, with one organized by Nordic Games Conference. Both had really great judges and I definitely took advantage of the opportunity to talk to most of them.
Making the most of it
Ultimately, no matter how good a conference is, it's still just an opportunity. It's up to us developers to make the most of it. That's a topic for another article but suffice it to say that shyness is not an option. Most devs aren't really prepared to act as salesmen but that's exactly what you gotta do when you go there. I'll let Alec Baldwin close for me.
-Alex